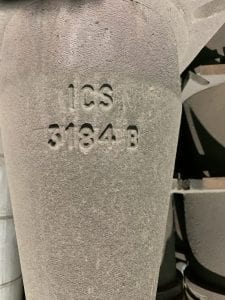 ICS Castings
September 2020, The ICS Castings Sales team received a phone call from an engineering company in Ontario. The phone call was brief, they asked if we were still in business and still produced castings, which of course the answer was yes. They were then put in touch with a member of our sales team.
The firm sent ICS Castings a photo of what they only knew as a "cyclone dust collector" and how they found ICS, was our cast-in part number. The part number was ICS3184B, last produced pre-2010. After some quoting with the end user, the firm put in a reorder of 50 more units.
ICS has more than 10,000 drawings and 3000 patterns in our warehouse, and of course the production department still had both of these in our system.  The pattern needed a few minor repairs, but we fixed these and we were ready to produce a sample quickly. First contact via phone to product out the door in 5 weeks.
Delivery of 50 new ICS3184B will be the second week of November,2020. Since we have only perfected our casting process since 2010, the team is taking bets that the engineering firm's next order will be in 2035.  Want to know more about our operations, click here
Leave a Google Review
Complete ICS Casting presentation for 2020 is below,