ICS Wear Groups Mill Master Line of Pumps
and Products for Mining & Commercial Industries
We are a recognized global leader of heavy duty equipment, specifically those being affected by abrasion, corrosion, and impact. ICS is your foremost supplier of a full range of pumps and custom designed mining equipment. We specialize in castings manufactured in ductile iron, high chrome, and manganese. ICS also offer special priority alloys classified under "PRAV" (Proprietary Resistant Alloy Variances). We also manufacture metal, rubber, and urethane pump parts; liners, chutes, elbows, crusher components, and proprietary wear plate, piping, and sleeves.
ICS Knows Mining Pumps & Replacement Parts
Over the years, we have visited more than 60 mine sites worldwide to sit down with customers ranging from mine site superintendents to service personnel. Our goal with these visits is to discuss site-specific wear issues and improvements to increase performance and eliminate unnecessary downtimes.
We Are Your OEM Pump Part Solution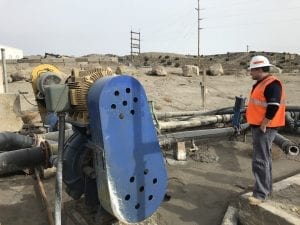 ICS provides pumps and replacement parts that fit your pre-existing site operations. ICS pump footprints and parts are 100% interchangeable and we now offer you the option to custom design your pump to meet your exact requirements. Our products range in size from 1.5×1 up to 20×18 with special orders ranging to the TUL series of pumps and complete line of sump pumps and gravel pumps.
Materials include rubber, urethane and other products such as metal wet ends as well as specialty gland seal and expeller seal arrangements designed in a range of materials including stainless steel, exotic and proprietary steels. Each pump comes complete with pump curve, pump footprint and spare parts checklist for quick and easy reference and part ordering.
To improve both the wear life of your pumps and pump parts, we encourage you to inquire about our high efficiency impellers, bearing isolator kits, and heavy duty cut water volutes.
All our pumps and pump parts are designed to keep you pumping longer and more effectively
ICS shipping wrap and boxing of pallets gives us even more confidence in ICS products. When we had an issue with a trucking company they supplied us with photos to prove the state of the product when it left their warehouse.

Warehouse supervisor / Buyer – Gross Mining

Having the ICS team come visit us on site, it allowed us to put a face to a name. The team's experience identified all the pumps in the mill in less than 3 hours. They then created a master pump list with spare parts and seal for us.

Plant Maintenance Planner/Supervisor – Westmoreland Coal

ICS's CRWi30 wet ends extended the life of our slurry pumps in the mill by 63%.

Mill Superintendent – Hecla Mining

The fit of the pump parts we received from ICS is great no problem what so ever and the delivery time is far superior than that of Weir.

Senior Maintenance Planner – Dominion Diamonds

ICS Fully Guarantees all their mill liners, sump pumps, replacement parts, slurry pumps and custom castings.

Mill Maintenance Planner- Tamra Mining

ICS Products save you time and money. ICS is cost effective and has excellent delivery time.

Mill Maintenance Superintendent – Red Chris Mine
Why Choose ICS Wear Group for Your Heavy Duty Equipment Needs?
Quite simply being made in Canada, we save you time and money.
When you deal with ICS, the first benefit is to your bottom line. We offer services like our bearings exchange program; on-site repairs; and in-stock parts, which eliminate back orders, and minimize downtime by immediately shipping parts to you. Find out more
The name ICS Wear Group stands for Dedication, Leadership, Canadian Manufacturing and above all Business Ethics.
Our promise is to build brand loyalty and increase consumer's value by delivering pumps, pump parts, and mining products, services and solutions, in innovative and cost effective ways. We realize this mission by setting the highest standards in service, reliability, safety, and cost containment in our industry.
Contact ICS Wear Group for the answers to all your parts and product questions!